2024 Hyundai Kona: Everything We Know So Far
The 2024 Hyundai Kona is going to be the first model in the second generation of this bold subcompact crossover SUV. It has received a complete makeover, offering drivers more interior space, a futuristic and stylish new exterior, and the choice of gasoline or all-electric powertrains. Every version will be sleek, sporty, and full of cutting-edge technology.
The new light bar that wraps around the front of the car will surely attract approving gazes everywhere you drive your sleek new Hyundai Kona. The same new feature is found on the back of the vehicle, offering the car a futuristic vibe. This page details everything we know so far about the 2024 Hyundai Kona redesign.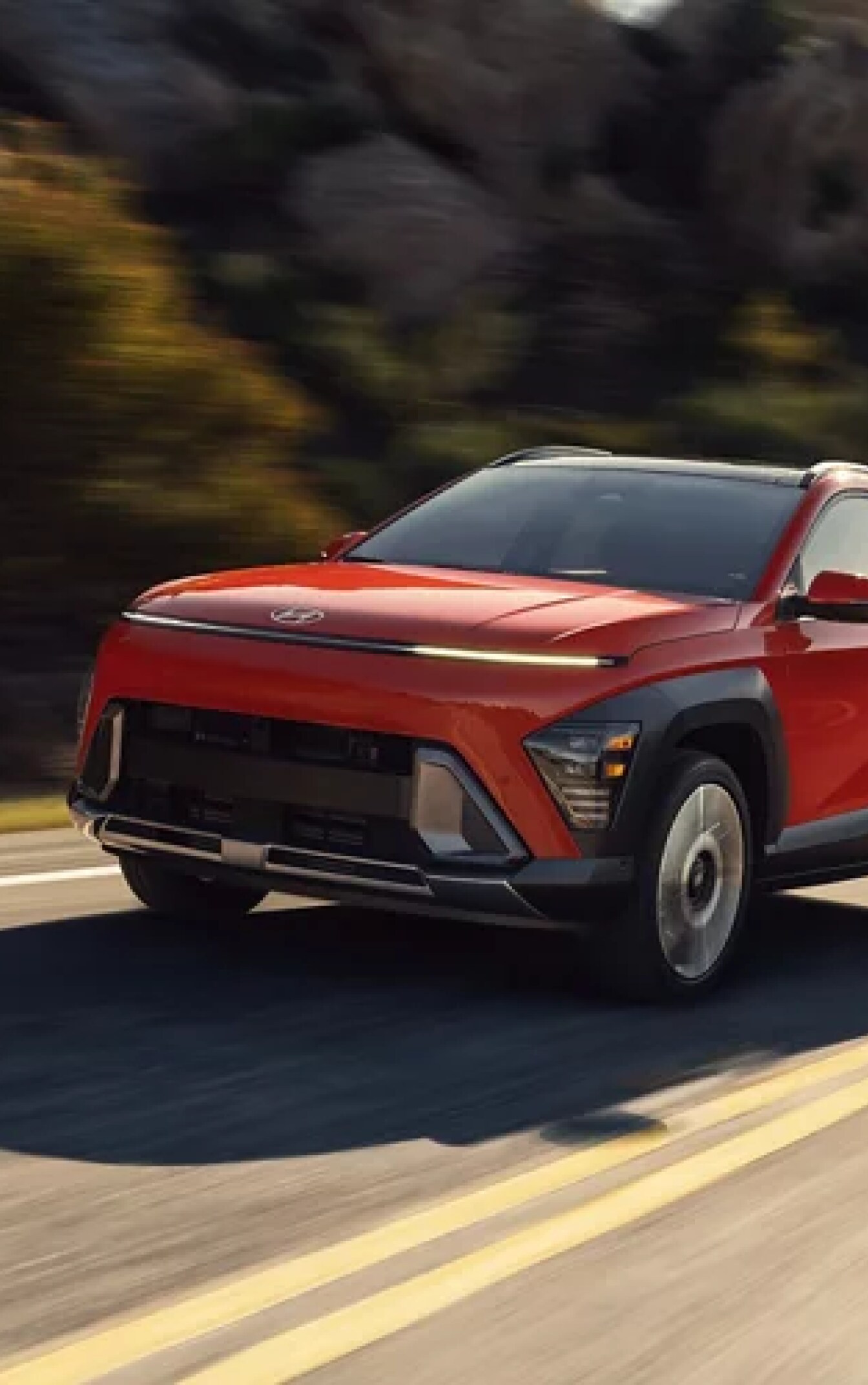 2024 Hyundai Kona Engine & Performance
There are four different engine options for the 2024 Hyundai Kona. Well, perhaps calling all of them engines is imprecise – two of these choices are traditional gasoline-powered internal combustion engines, while the other pair is a set of all-electric configurations. We'll discuss the electric options in-depth below. The gasoline engines, as we shall see, offer power and efficiency to drivers.
Not all the specs have been released, but we expect that the standard engine for the gasoline-powered version of the new Hyundai Kona will be a 2.0-liter four-cylinder Atkinson engine that will make an estimated 132 pound-feet of torque and 147 horsepower. The N Line and Limited models will come instead with a 1.6-liter turbocharged four-cylinder that should output an estimated 195 horsepower and 195 pound-feet of torque.1
These engine choices are quite similar to those found on the 2023 model of the Hyundai Kona. We have no issue with this – the current version of the vehicle is sporty, efficient, and fun to drive. We expect the same of the forthcoming 2024 Hyundai Kona. If you can't wait for the vehicle's release date, however, then you can lease a Hyundai Kona from our dealership.
These different configurations offer something for everyone. Being able to choose between gasoline and electric power is quite something, but having two choices in each category is superb. Drivers can select the setup that best matches their preferences and needs.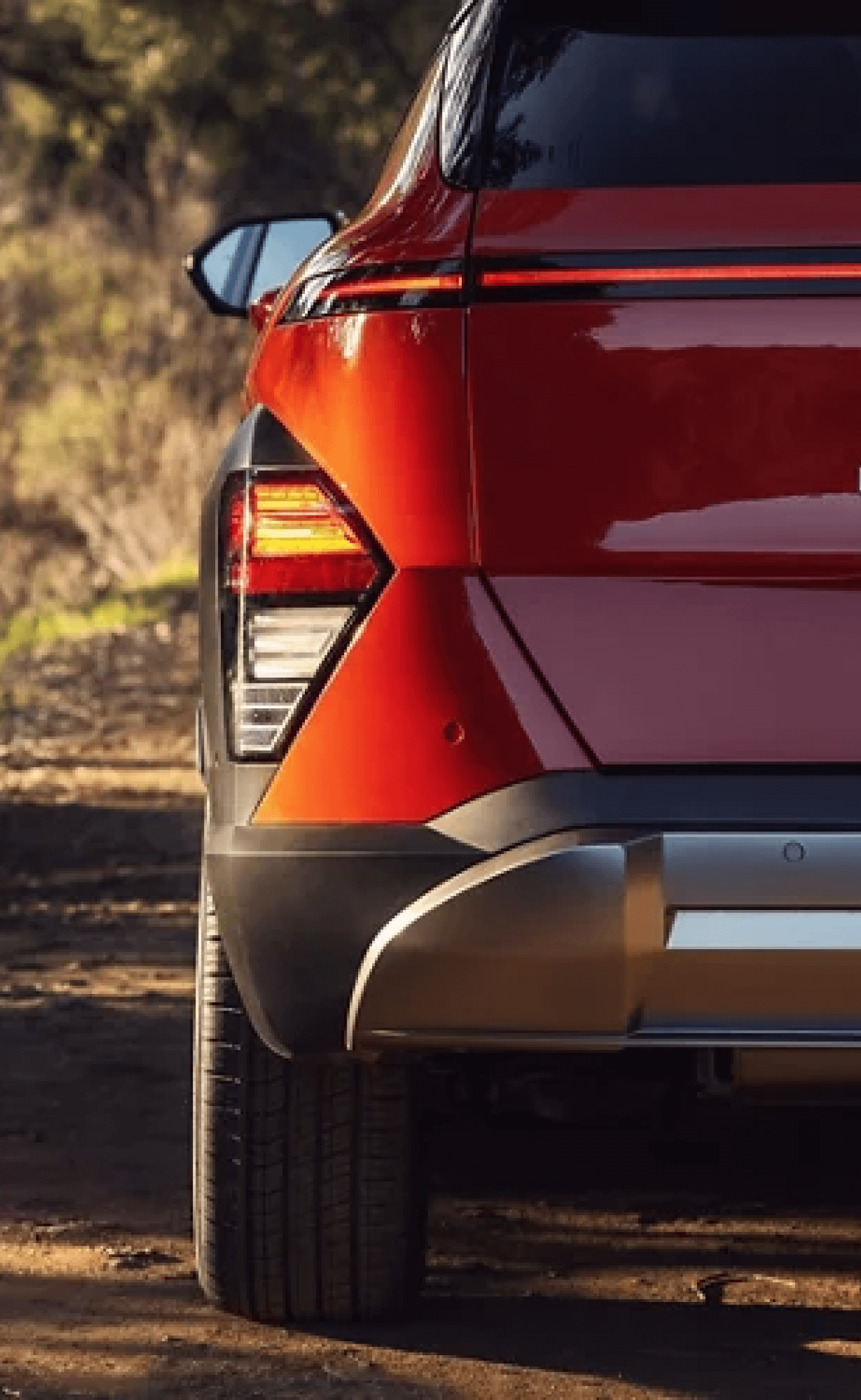 2024 Hyundai Kona EV
The new Hyundai Kona is going to be available as an all-electric SUV. The company actually designed the new model as an electric vehicle first and then converted it to gasoline architecture. This is exceptional – many competitors have gone the other way when building electric cars. The decision to design the car in this manner reflects the commitment of Hyundai to transition to electrification in the coming years.
The 2024 Hyundai Kona Electric will be available with two different batteries. The entry-level 48.6-kWh battery is expected to get 133 horsepower and 188 pound-feet of torque. The upgraded 64.8-kWh version makes an estimated 201 horsepower and 188 pound-feet of torque. The upgraded battery is expected to offer 260 miles of driving range, though this estimate is awaiting verification.1 We don't know the estimated Hyundai Kona Electric range of the entry-level battery yet. These specs are impressive, offering efficiency and power.
The 2024 Hyundai Kona charging time will have you back on the road quickly when you need juice. With support for DC fast charging, the vehicle can have its battery refilled at quite a clip. Hyundai estimates that the car can go from 10% to 80% in just 43 minutes at a fast-charging station.2 You and your loved ones will have enough time to use the facilities and get something to eat before getting back on the road.
Electric vehicles offer a great blend of power and efficiency. Since battery-and-motor systems don't need to spin up through multiple gears like traditional powertrains, they can instantly apply almost all their torque. This leads to a fun time behind the wheel of an electric car.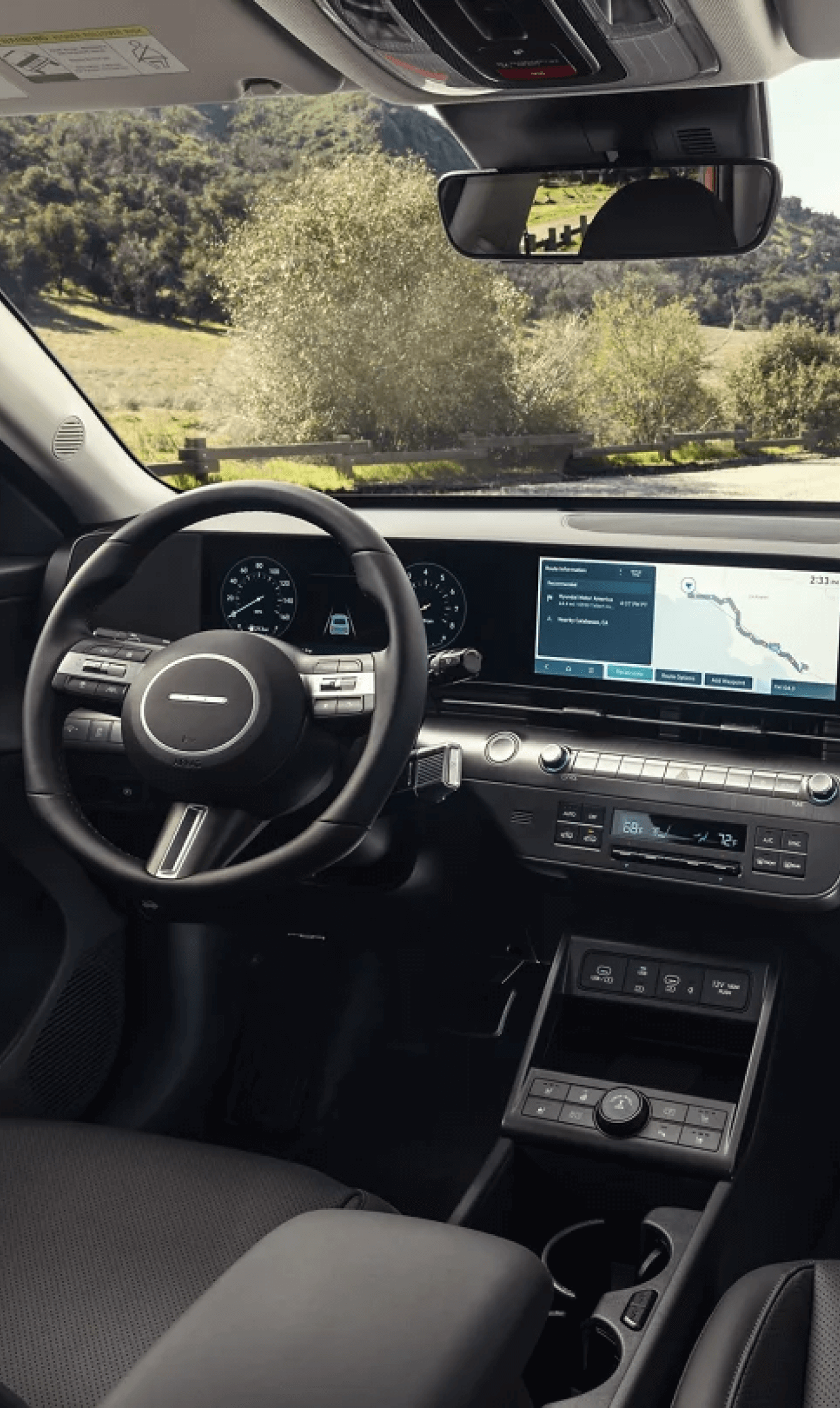 2024 Hyundai Kona Interior & Features
The new Hyundai Kona interior has been redesigned for the second generation of the SUV. The front seats are slimmer than before, offering increased second-row legroom. The all-electric model has a flat floor since battery-and-motor systems require far fewer moving parts to run under the vehicle. That said, the gasoline-powered Hyundai Kona SUVs will still have a compact tunnel cabin design.
The interior of the 2024 Hyundai Kona also sports some technological upgrades. Drivers will enjoy dual 12.3-inch digital displays, available ambient interior lighting, and reclining rear seats. While one of these two displays is a touch screen, the vehicle still sports some physical buttons, unlike many competing vehicles. If you would like to learn more about how the Hyundai Kona matches up with other vehicles in the company's lineup, check out our Hyundai Kona vs. Hyundai Venue comparison page.
The new Hyundai Kona also comes with incredible safety features. You'll have forward collision warning, automated emergency braking, and lane-keeping assistance technology standard on every model. Available features include blind spot monitoring, a surround-view monitor, and even a remote parking feature.
The changes to the Hyundai Kona for the 2024 model year are exciting. The vehicle is not expected to come to the market until later this year, however. Some drivers are searching for a new ride now. If you're part of that group, we'd suggest checking out our new Hyundai Kona for sale. The 2023 model is sleek, efficient, and available with gasoline or electric powertrains.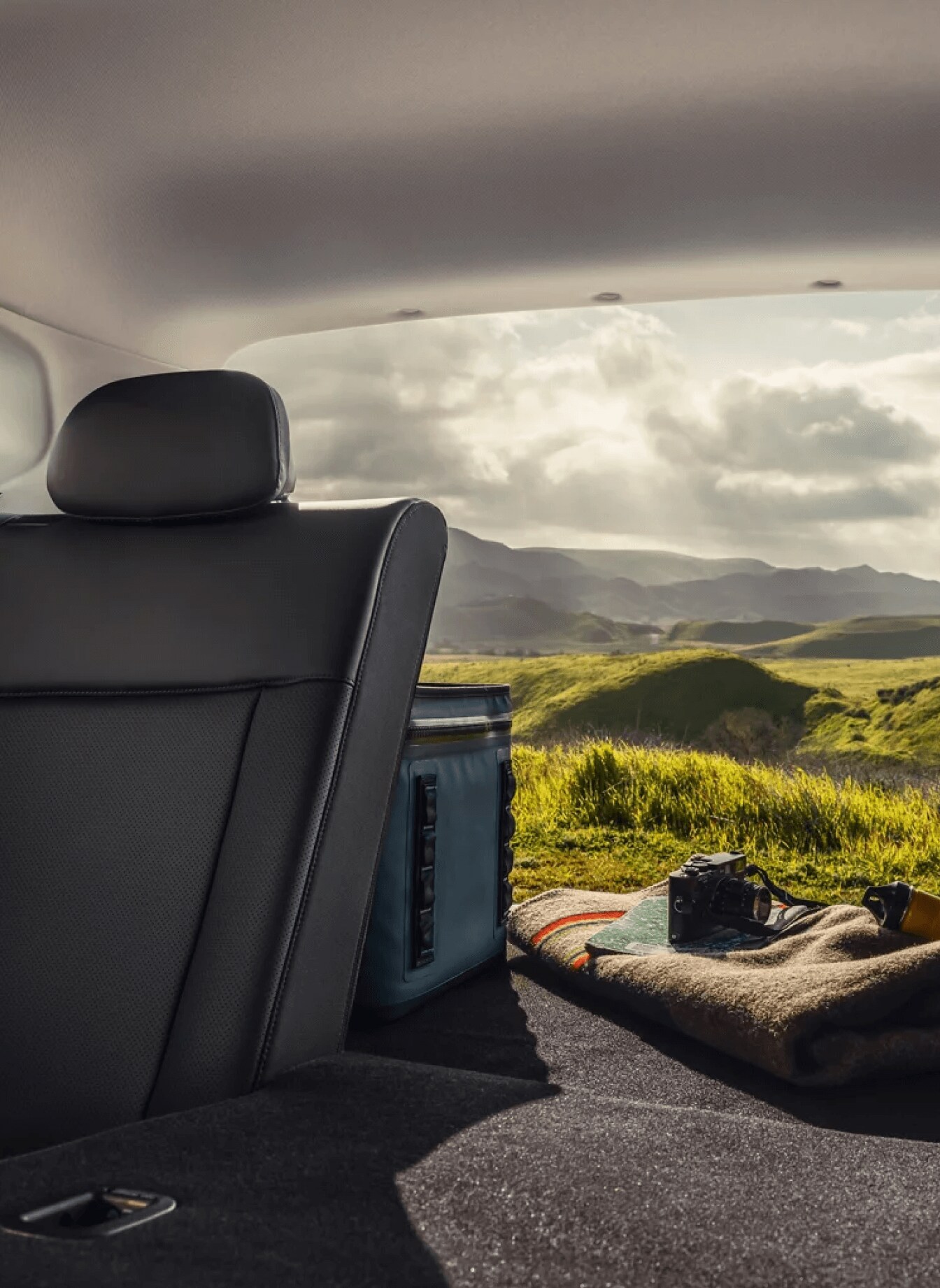 2024 Hyundai Kona Cargo Space & Dimensions
The 2024 Hyundai Kona redesign has increased the space available in the SUV's cabin. Both the cargo area and seating spaces have become larger. You'll enjoy 25.5 cubic feet of cargo space behind the rear seats or 63.7 cubic feet with the back row folded down. These are both extremely impressive numbers for the subcompact SUV vehicle size class. Hyundai has infused the second generation of this sleek and sporty SUV with luxury and utility.
The Electric model is 171.5 inches long, 71.9 inches wide, and 62.2 inches tall (on 17-inch tires and without roof rails). Drivers will enjoy 41.7 inches of front legroom and 56.8 inches of shoulder room. Back seat occupants get 36.4 inches of legroom and 55.2 inches of shoulder room. The dimensions of the internal combustion engine models differ slightly from these.
The gasoline-powered 2024 Hyundai Kona is 171.3 inches long, 62.4 inches tall (on 17/18-inch wheels), and 71.9 inches wide. The front row has 39.9 inches of headroom, 41.7 inches of legroom, and 56.8 inches of shoulder room. Folks in the back have 38.3 inches of headroom, 38.2 inches of legroom, and 55.2 inches of shoulder room. Every version of this bold new SUV is spacious and comfortable.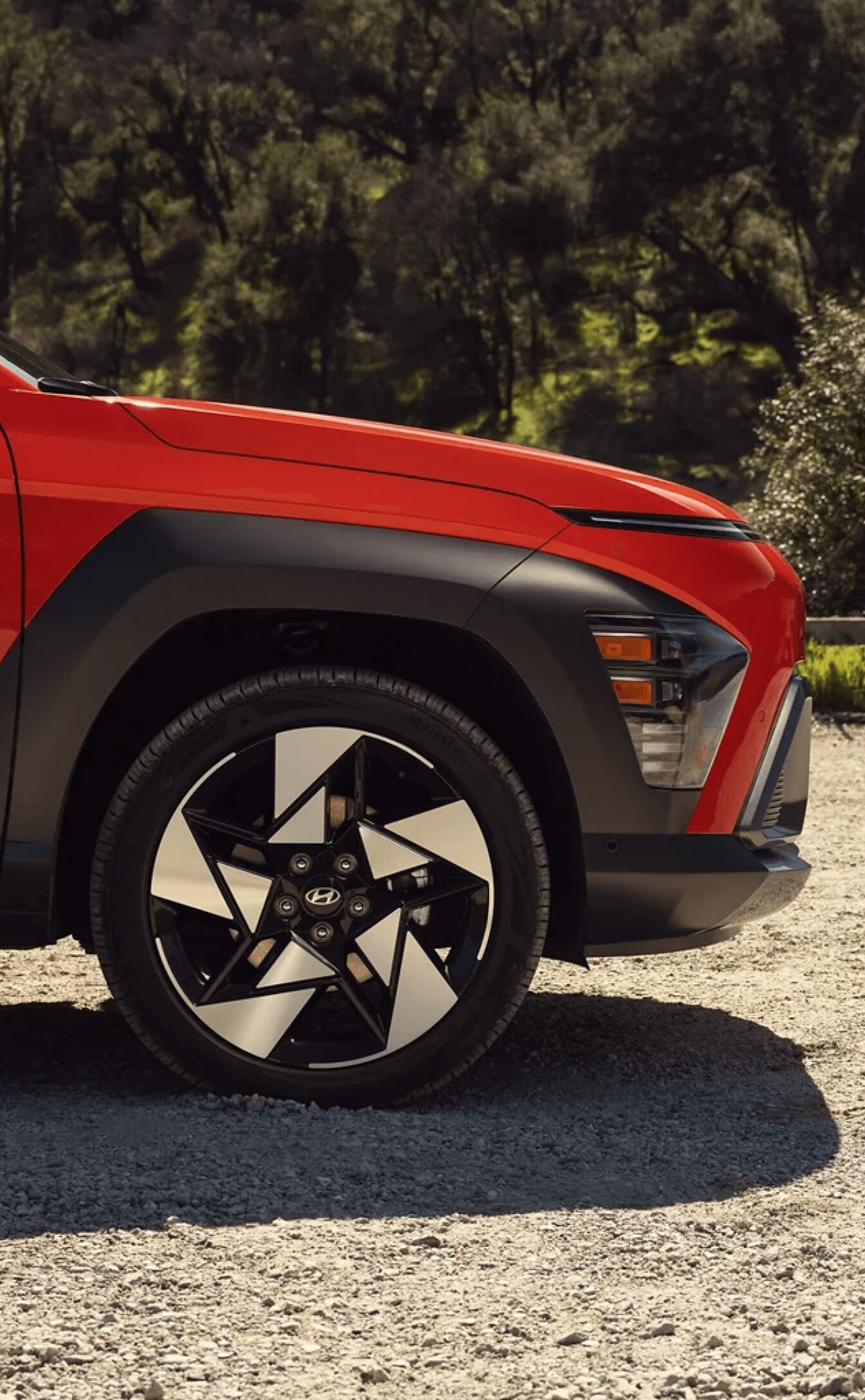 2024 Hyundai Kona Trim Levels & Colors
We do not have a complete, confirmed list of 2024 Hyundai Kona colors. There are pictures of the vehicle available that do show us some of the options we can expect, but our team has the feeling that we haven't yet seen every choice. The hues we've spotted include:
Red
Yellow
Grey
Light Blue
White
It's not hard to imagine a darker blue option joining the lineup of 2024 Hyundai Kona colors, and a black paint job choice also seems likely. Time will tell, however. The lineup of new Hyundai Kona trims is also not entirely clear at this point. We think that the internal combustion engine models may follow the 2023 options, which are:
We have confirmation that we can expect N Line and Limited models, so SE and SEL options seem likely. The 2023 Hyundai Kona Electric is available in the SE, SEL, and Limited configurations, so we could see the same setup for the 2024 Hyundai Kona Electric as well. We do not expect a 2024 Hyundai Kona N, which was the performance-oriented model previously available, or a 2024 Hyundai Kona hybrid.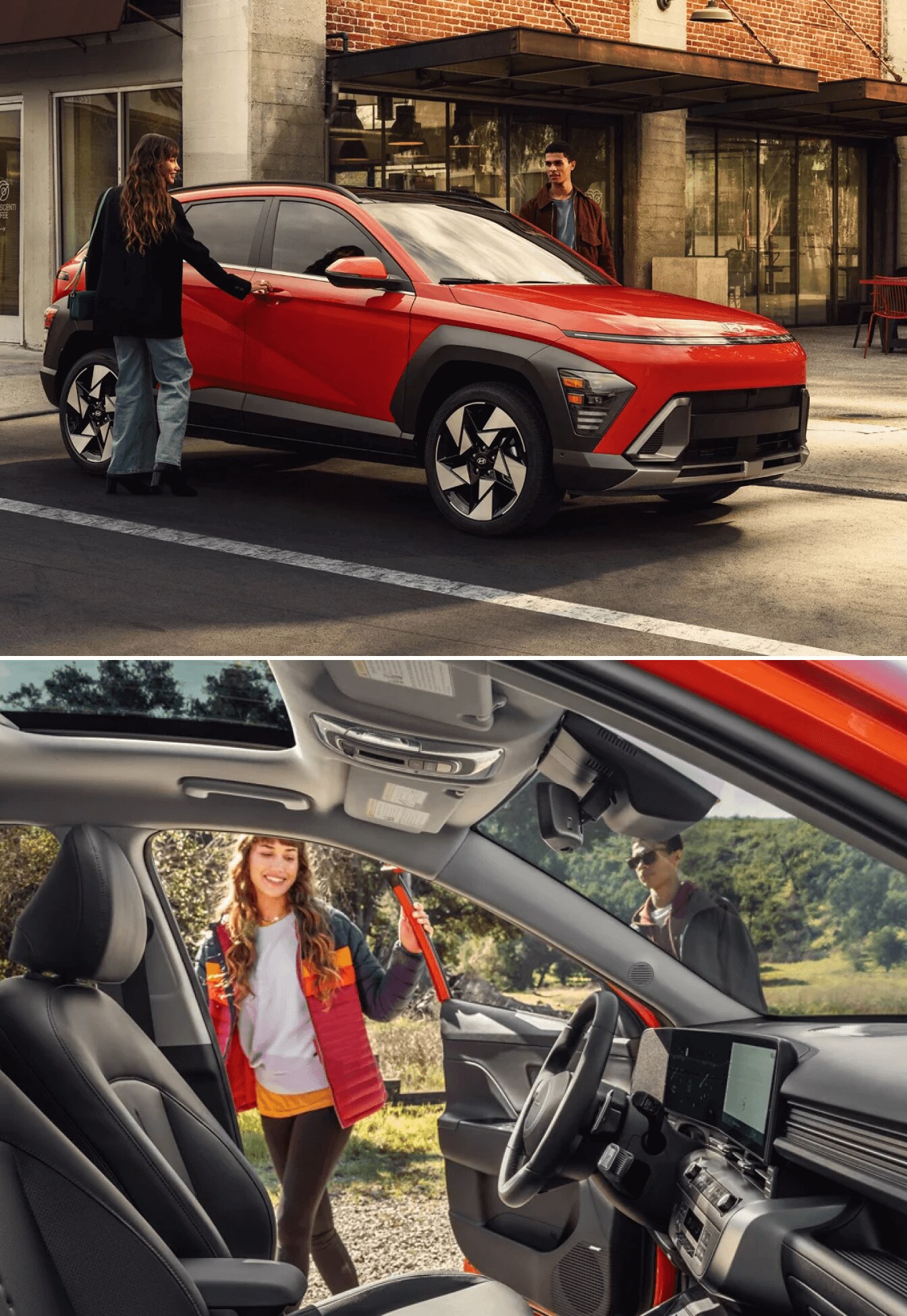 2024 Hyundai Kona Release Date & Price
The 2024 Hyundai Kona promises to be a stunning new vehicle. Its wraparound Seamless Horizon Lamp provides an innovative new take on daytime running lights. The availability of two gasoline and two all-electric configurations allows drivers to choose the right setup for their needs. Whether you choose the entry-level gasoline engine or the upgraded electric powertrain, however, the new Hyundai Kona offers efficiency, muscle, and plenty of space for your family and cargo.
Our team is full of Hyundai experts and enthusiasts. When you reach out to us with questions, whether they're about the 2024 Hyundai Kona battery or a vehicle in our new Hyundai inventory, we'll do everything in our power to answer them. Our friendly professionals work hard to assist our customers with getting the information and help they need. Reach out to us today and discover our commitment to customer service for yourself.
We can help you place a 2024 Hyundai Kona pre-order when the time comes. Hyundai has not yet opened up this possibility to the public, but we can sign you up and alert you as soon as you can reserve this vehicle. If you're ready to experience a bold new SUV that combines the best of modern technology, sleek design, and efficient performance, the Hyundai Kona is for you.
---
Frequently Asked Questions
The new Hyundai Kona will likely reach dealerships around the country in the late summer, while the Hyundai Kona Electric is slated to be available in the fall. As of this writing in late spring, the release of this vehicle is just months away – we've already become quite excited. Please get in touch with the friendly staff of our dealership to learn more.
The new generation of the Hyundai Kona will include all-electric models. There will be two different battery configurations available, allowing drivers to decide which one best fits their needs and desires. The vehicle promises to be efficient, luxurious, and sporty. The Hyundai Kona Electric will be capable of fast charging, allowing you to get back on the road quickly.
Hyundai has not yet released pricing information for the new generation of the Hyundai Kona. We do not expect it to be significantly more expensive than the current model, however. Hyundai is dedicated to providing excellent value to its customers. The Hyundai Kona will be no exception, seeing as it is efficient, luxurious, and packed with cutting-edge features like its 12.3-inch touch screen.
The upgraded battery is thought to provide a range of 260 miles, according to internal Hyundai estimates.1 The EPA has yet to reveal its estimates for either version of the Hyundai Kona Electric SUV's capabilities, however. We will share this information once it becomes available. That said, the range expectation for this vehicle is impressive.
The new gasoline-powered Hyundai Kona is 171.3 inches long, 71.9 inches wide, and 62.4 inches tall with front-wheel drive and no roof rails. The electric model is similar, clocking in at 171.5 inches in length, 71.9 in width, and 62.2 inches in height. These dimensions offer a spacious cabin and plenty of cargo room.
Reserve The 2024 Hyundai Kona at Matt Bowers Hyundai
* Indicates a required field
---
1Hyundai internal estimate; awaiting final EPA certification.
2Charging rate and time estimate varies based on several factors, including current battery charge level, output of the charging unit, vehicle, and battery settings and outside temperature.