Certified Hyundai Brake Service And Replacement Near Biloxi, MS
Schedule Your Hyundai Brake Service at Matt Bowers Hyundai in Gulfport, MS
Your Hyundai brakes are an intricate system of components. As you press down on your brake pedal, a complex chain of events is set into motion. From your Hyundai brake light switch to your vehicle's brake rotors, electronic signals, hydraulic pressure, and mechanical force provide the stopping power you need to slow down. Keeping your braking system healthy is perhaps the most critical aspect of safe vehicle operation.
Taking care of this complicated system with genuine Hyundai parts, special tools, and work by trained technicians is even more important and will ensure that your vehicle performs at its best for many miles down the road.
Signs of braking issues and brake maintenance needs should be given full attention. At our dealership, we know that it's our responsibility to pay just as much attention to your own needs; you'll find prompt, competitively-priced work when you schedule service for your brakes with us.
Signs That Your Vehicle Needs a Hyundai Brake Service Near Biloxi, MS
Like a Hyundai battery replacement service, specific manufacturer guidelines are found in your owner's manual to determine when routine brake service is required. Signs like your vehicle taking longer to start than usual will indicate that a service is required for your battery; your braking system will also display signs that indicate service is necessary.
To ensure safety on the road, contact us to schedule a Hyundai brake service if your vehicle displays any of the following signs:

A grinding, squealing, rattling, chirping, or another abnormal sound occurs as you press the brake pedal; this may indicate that your vehicle requires a new set of
Hyundai OEM brake pads
.

Your vehicle pulls to the left or right as you press the brake pedal.

A shaking or vibrating feeling occurs in the steering wheel or brake pedal as you press on the brake pedal.

The brake pedal has a spongy or softer than normal feeling as you press down on it.

The
Hyundai brake fluid
in your vehicle's brake fluid reservoir appears to be a dark, brownish color rather than a honey-like color.

The brake pedal has a harder feeling than normal as you press down on it.

The brake pedal can be pressed down farther than usual. 

The brake pedal can be pressed completely to the floor or rapidly sinks as you press it.

The Hyundai anti-lock braking system (ABS) warning light is illuminated on your dashboard. Don't worry; your
Hyundai brake warranty
may provide coverage for this system.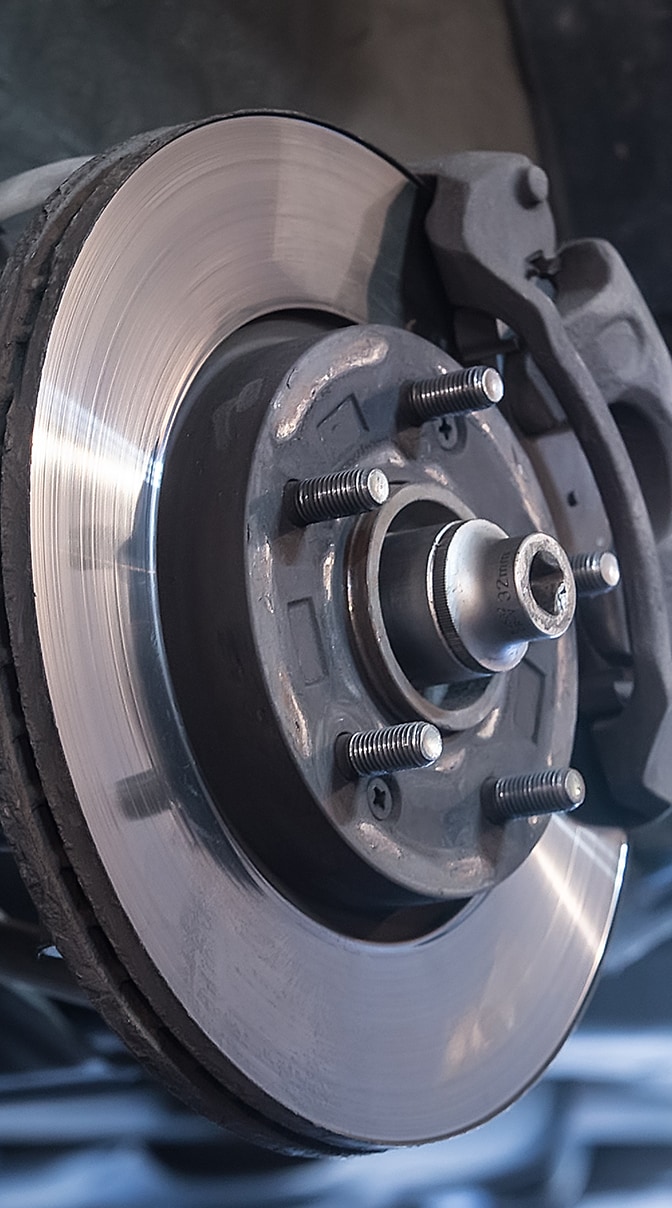 Like a Hyundai tire service, brake service is crucial for proper vehicle maintenance. It may be often overlooked, but think of it like this: Services to keep your car running at its best are critical to getting moving smoothly, and brake service is essential to keep your car's ability to slow down safely just as smoothly.
A Hyundai Brake Service Near Gautier, MS Can Help Prevent In-Depth Repairs
Safety is vital on the road. As a vehicle owner, though, saving money can also be important; We can help you save on the Hyundai brake job cost with our service coupons.
That said, maintaining your brakes can help prevent more expensive repairs in the future. For example, parts like your brake calipers are designed to last many years when properly maintained and are interconnected with other crucial components like your vehicle's ABS. Improper maintenance of such features can cause more in-depth work to be required in the future.
We can help determine if service or repair is required when booking a brake inspection at our dealership. Schedule your brake inspection or a repair with Hyundai OEM parts today using our convenient online contact form.
Need Brake Service? Contact Us Today!
Delaying brake service can result in damage to your brake system. Let us provide the best possible service for your Hyundai. 
Schedule Service